The founders of S.E.L.F. believe in leveling the special education playing field for all families. We believe in making a "free and appropriate public education" accessible to all by providing financial assistance in the form of grants for special education legal fees.
Special Education Legal Fund (S.E.L.F.) was founded by parents who have navigated the special education system for their children, for parents who may need financial support to secure legal assistance for their own children in special education.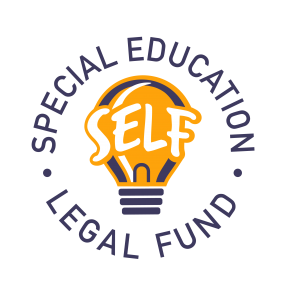 Education for children with disabilities in the United States is governed by the Individuals with Disabilities Education Act of 1990 (amended 2004), which states that children with disabilities are entitled to a "free and appropriate public education."
Before IDEA and its predecessor act, the Education for All Handicapped Children Act (EHCA), only twenty percent of children with disabilities were receiving an education, and many states had laws in effect preventing certain types of children (physically handicapped, emotionally disturbed, etc) from attending public schools.
IDEA's goal is to provide children with disabilities access to the same educational opportunities that exist for children without disabilities. IDEA's main focus is on leveling educational opportunity for children with disabilities by ensuring they receive an individualized education that is free and appropriate for the child.
The law also focuses on early intervention and identification of children who may need services and ensuring that children with disabilities are educated with their typical peers to the greatest extent possible.
However, the Individuals with Disabilities Education Act was only partially funded at the time of the law's creation, and funding for IDEA was reduced still further several years later. Today, only about 20% of the costs of educating children with disabilities according to the mandates created by IDEA are borne by the US government.
The remainder of those costs fall squarely on states and local school districts who shoulder the rising costs of educating a growing population of children with disabilities. Because of this fact, cost is a factor with every child in special education, and parents and districts may sometimes come into conflict.
For the average parent, advocating for a child in special education can be an overwhelming experience. When a child receives a referral for special education, it is often a confusing and emotional time. The child may be underperforming academically; there may be behavioral problems; there are often social issues. Under pressure and confused, parents who lack information and resources may agree to an educational program that is not appropriate or does not meet their child's needs.
Special Education Legal Fund was created to provide parents in need with the financial support necessary to secure legal assistance in special education for their child or children.