Who Is The Eagle Hill Student?
This piece is the seventh in our series "Special Education Schools: Getting Past the Sticker Shock."  This series, which will continue for the balance of the 2021-2022 year, is intended to highlight the differences between independent special education programs and give parents a sense of what makes each program unique, and what lies behind statistics like student-teacher ratio and "behind the sticker."  The schools highlighted in this series represent a wide range of special education independent schools in Connecticut and New York; each school serves specific and particular profiles of learners and may not be appropriate for all students with special education needs. DISCLOSURE: Eagle Hill School is a current corporate sponsor of Special Education Legal Fund.
Eagle Hill School in Greenwich, Connecticut is a name that is synonymous, in this part of the world and beyond, with independent special education. Founded in 1975 and tucked away in a verdant enclave off of lower Lake Avenue, Eagle Hill has always held a bit of mystique for me. Even people who don't know about special education know about Eagle Hill. People move to Greenwich, from as far away as London and Hong Kong, so their children can attend Eagle Hill.
"Eagle Hill doesn't take students with autism" is a statement I've heard many times.
Although this might (or might not) be the official position, the reality is a bit more nuanced. What Eagle Hill or any school means when they say they do not accept students with an autism diagnosis is probably more accurately stated as "no behavioral issues." So what kind of students does Eagle Hill take? What students are best served by the school and its individualized curriculum? Why did my friend move her family from Hong Kong so her son could attend Eagle Hill? Why did another friend relocate from London for the same reason? What drives another friend of mine, whose son graduated from Eagle Hill years ago, to continue to volunteer dozens of hours a week in support of the school?
Our program cannot effectively teach students with behavioral or emotional challenges that would negatively impact regular classroom activity.

Eagle Hill School website
Learning disorders often walk hand in hand with behavioral issues because behavior is how children communicate. Children won't say "I can't sit still therefore I can't concentrate and I'm having trouble processing." Children won't say "I don't understand what the class is doing because my mind is processing this differently." But what they do say is in their behavior and body language. A student's behavior is very often their way of communicating that the school environment isn't working for them. A very wise BCBA once said to me "all kids with learning disorders have behavioral issues." Kids who have learning issues want to perform; they want to do what the teacher wants them to do, they want to be compliant. It's just that – well, in some environments, they can't.
What kind of student thrives at Eagle Hill?
Eagle Hill is certainly not the only school to refuse students with documented behavioral challenges. So who is the student at Eagle Hill? The answer to that question can be found, more broadly, in an exploration of what Eagle Hill is, and what Eagle Hill is not. Eagle Hill is a special education school that serves students with language based learning differences, like dyslexia. Eagle Hill is not a therapeutic special education school. Therapeutic special education schools serve students who have documented emotional and behavioral challenges that have to be overcome before they can learn in the appropriate environment. Those challenges might be anxiety, depression, school refusal, etc. Many of those conditions exist hand in hand with dyslexia or ADHD. But in Eagle Hill's case, the school serves students for whom the learning difference is the primary challenge to learning.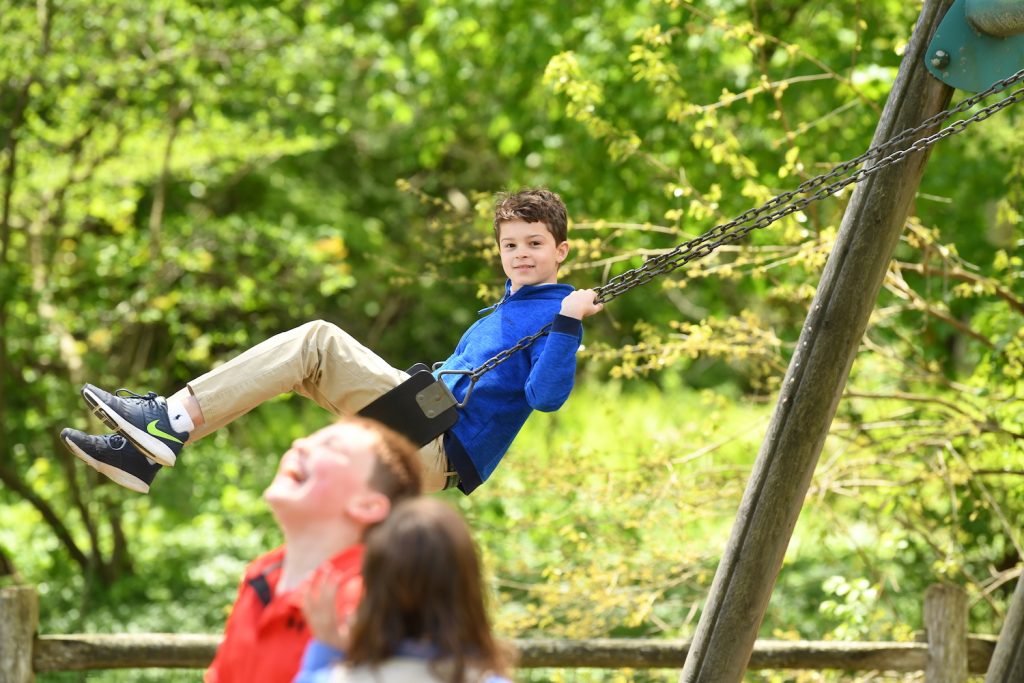 The student best served at Eagle Hill is a student who requires intensive remedial work for a short to medium period of time with an eventual return to mainstream school in the not-too-distant future. Everything about Eagle Hill emphasizes the fact that it is meant to be a temporary stopping point in a child's education journey. From the minute a child arrives at Eagle Hill, to the individualized assessments that take place over each year, Eagle Hill and the family are constantly assessing the student's readiness to leave the Eagle Hill nest and return to a more mainstream environment. Most students stay at Eagle Hill for 2 or 3 years, although some stay longer through the program's completion at age 15. But the base premise of the school is to ready the students for a return to the mainstream educational environment.
I immediately recognized the children who entered Eagle Hill from more traditional school settings…They entered Eagle Hill with a doubtful look on their faces and their posture attesting to the years of failures they had experienced. The challenges varied for each student …. some couldn't decode, others could decode but didn't comprehend. Some had great difficulty with mathematics. Many had receptive and expressive language disabilities, and others were lost in the world of school due to weaknesses in executive functioning. I watched as children became successful learners, developed confidence, and were ready to return to more traditional school settings. At Eagle Hill I witnessed 'small miracles' on a daily basis and these compounded over time to change the lives of these young people.

Dr. Marjorie Castro, Eagle Hill Head of School 2009-2019
Eagle Hill is a special education school that feels like a typical private school.
Eagle Hill looks like a typical private school. Everything about Eagle Hill, from the size of its student population, to the after school sports program, to the scheduling of its spring break (the two week March spring break schedule that most Connecticut private schools adhere to) to the five day boarding program, reads like a typical private school. Eagle Hill is set up to look like a typical independent school, albeit with considerable academic and educational supports, so that the student's transition both into and out of the EHS community will be as seamless as possible.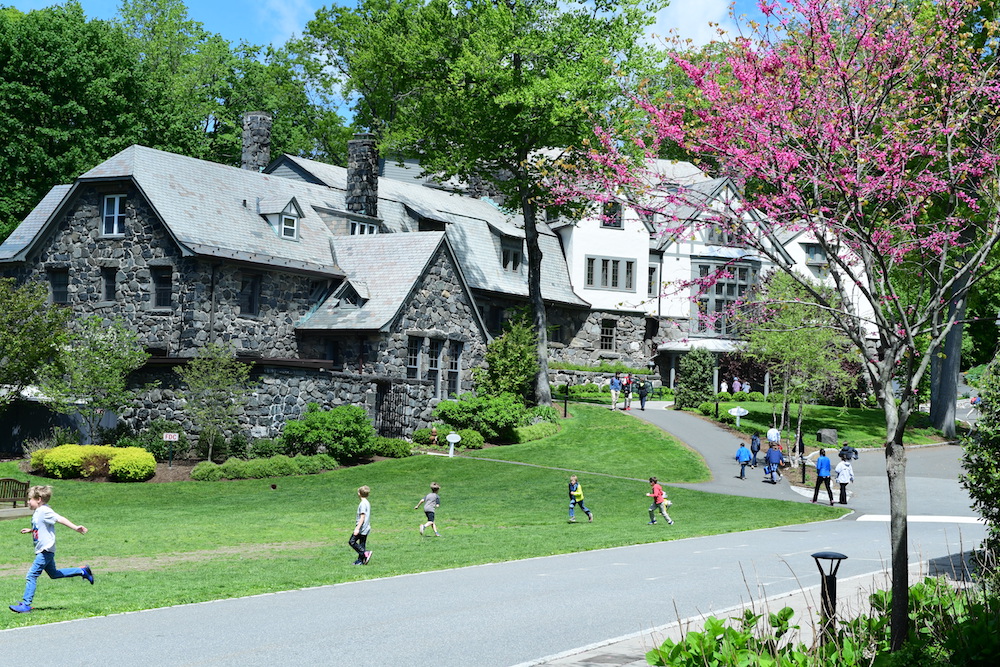 However, Eagle Hill first and foremost is a special education school, and as such Eagle Hill's supports are interwoven through the school day. Eagle Hill obviously has extensive academics supports for its students. Some of the supports are more obvious than others. Eagle Hill does not use a traditional grading system, preferring to measure student progress in a more dynamic and individualized way. Assessments are performed periodically and regularly, and are predominantly narrative-driven which provides a nuanced and individualized view of each student not available in a typical grading system. Eagle Hill's advisors meet with their advisees frequently, and interface with the other teachers and staff on that student's team on a regular basis. Eagle Hill's class sizes are small, around four students per class, and the attention they provide to students is intensive and deeply supportive. And because homework is very often a struggle for students with learning disabilities, Eagle Hill structures its homework so that it can be completed (in its entirety, in the Lower School, and almost in its entirety, in the Upper School) with the direct support of teachers during supervised study halls each day.
But Eagle Hill has other, sometimes more subtle means of student support interwoven into the fabric of the school day. Eagle Hill's lunch is supervised by faculty and staff, with a staff member at each table with a group of students. That faculty member can provide social support in the moment to students who need it, or intervene in situations when necessary. Eagle Hill's recess is also quietly and expertly supervised by faculty and staff. During my multiple visits to the school, I have witnessed this first hand. I've seen teachers playing basketball with students, actively engaging in playground banter and play, and not just passively standing off to the side of the grounds. These teachers did not view lunchtime or recess as their breaks. They were not looking at their phones. This might seem like a small thing but as parents of most students (typical or with special education needs) know, most of the conflict that occurs during the early educational years happens in one of three places – gym class, recess, and the lunch room. All three are places where activity is more fluid and less structured, and all three are places where adult supervision is generally less available or less vigilant.
Eagle Hill School is a temporary school placement.
Our goal is to provide intensive, short-term, remedial instruction to children with learning differences, and return them to the educational mainstream as soon as possible.

Eagle Hill School website.
Eagle Hill is a temporary school placement and is deliberately designed that way. Most parents have a dual fear when enrolling their student at a private special education school: that the private school wants to keep their child longer than necessary to keep the tuition flowing, and the school district wants to transition their child out before they are ready for the opposite reason. At Eagle Hill, almost from the moment a student sets foot on the campus, the planning for that student's transition and departure begins. The assessment process month to month and year to year in addition to the specialized instruction and the addition, and fading, of supports always has transition as its ultimate goal. Eagle Hill also has recently appointed Sue Rappaport, who has worn many hats in her tenure at Eagle Hill, as District Facilitator. Her job is to help families navigate the complex relationship with their home school district and help them manage IEPs, annual meetings, triennial evaluations, and more. But the transition back to district, or to another mainstream environment, or to another less scaffolded special education school, is a priority from the student's first moments at the school.
Because the ultimate goal is departure and the average stay is around 2 years, students benefit from the fact that the school hews as closely to a mainstream educational experience as possible. Eagle Hill has a dining hall and students each lunch there every day. This observation sounds a bit weird but most independent special education schools don't have a dining hall and students bring lunch every day. Students attend class with deep instructional support, readying them for an eventual return to a mainstream learning environment. At school, students complete their homework, with support, and then with fading support, to build those academic skills. For students who live beyond the daily commuting radius, or who seek to learn more independent living skills, Eagle Hill has a five day boarding program similar to other independent schools in the Fairchester region.
After school, students may participate in Eagle Hill's sports teams that compete with other schools in Connecticut, and perhaps see some of their peers from their pre-Eagle Hill days. This after school sports offering, along with music and art programs, is something Eagle Hill offers that many other special education schools do not. Many special education schools simply don't have the size to field sports teams, or the desire to field competitive sports teams given that a lot of students with special education needs find competition to be stressful or anxiety-ridden. But I've met many students over the past few years who thrive on sports and competition, and Eagle Hill is able to serve those students and their self-esteem by providing this valuable outlet.
Eagle Hill's structure and similarity to elements of other independent non-special education schools in the area is a boon for students in both their transition into the school and their transition out of it. Attending an independent special education school comes with angst and anxiety, for both the students and their parents.  Eagle Hill's structure, size, campus, and focus on return to mainstream learning enable the school to lessen some of that anxiety for students and parents, easing both the transition into and out of the Eagle Hill/special education community.
Perhaps the transformative quality of Eagle Hill's transitional educational experience is best summed up by parent Patty Murphy. Patty has been a devoted member of the Eagle Hill community, extending well past her now-college-bound son's time at school.
We witnessed a profound transformation in our son within the first few months of attending Eagle Hill. There is an unparalleled level of acceptance and celebration of individual differences among the students. This foundation of security allows the students to take risks in learning and build on their successes at their own pace. That impact benefits the whole family and creates a deep devotion to the EHS community. Eagle Hill is a transitional school, but the relationships you develop with faculty and parents are lifelong.

Patricia Murphy, Chair – Eagle Hill Board of Directors
For more information about Eagle Hill School, please visit the school's website or contact Jennifer Shirazi, Director of Admissions, at (203) 684-0794.