Introducing Proyecto de Educación Especial
In December 2019, Special Education Legal Fund will launch Proyecto de Educacion Especial at Building One Community in Stamford, CT. Developed in partnership with Fairfield County's Community Foundation, Proyecto is a groundbreaking special education and civics curriculum designed to promote empowerment through understanding amongst ESL families with children in special education. With the help and support of FCCF, Special Education Legal Fund will continue to expand Proyecto's reach in Stamford, Norwalk, and Bridgeport throughout 2020.

This past year has been an extraordinary learning experience for Special Education Legal Fund. One of the principal lessons on this journey has been regarding the experience of Hispanic and Latino families who speak English as a second language in the special education system. While systemic failure generally cuts across racial and ethnic lines, the particularities of primarily Spanish-speaking Hispanic and Latino families make them especially vulnerable to the complexities of the special education system.
Special education is hard, for any family. When your child is referred to special education, it is generally because he or she is not performing in school. This could be academic, social, or behavioral. Your child could be falling behind in math or reading. Your child could also be evidencing behaviors – running away, hitting, kicking, screaming – in the school environment. You might be getting phone calls from the school about your child on a weekly, or even daily, basis. The school might be asking you to pick your child up early on a weekly, or even daily, basis.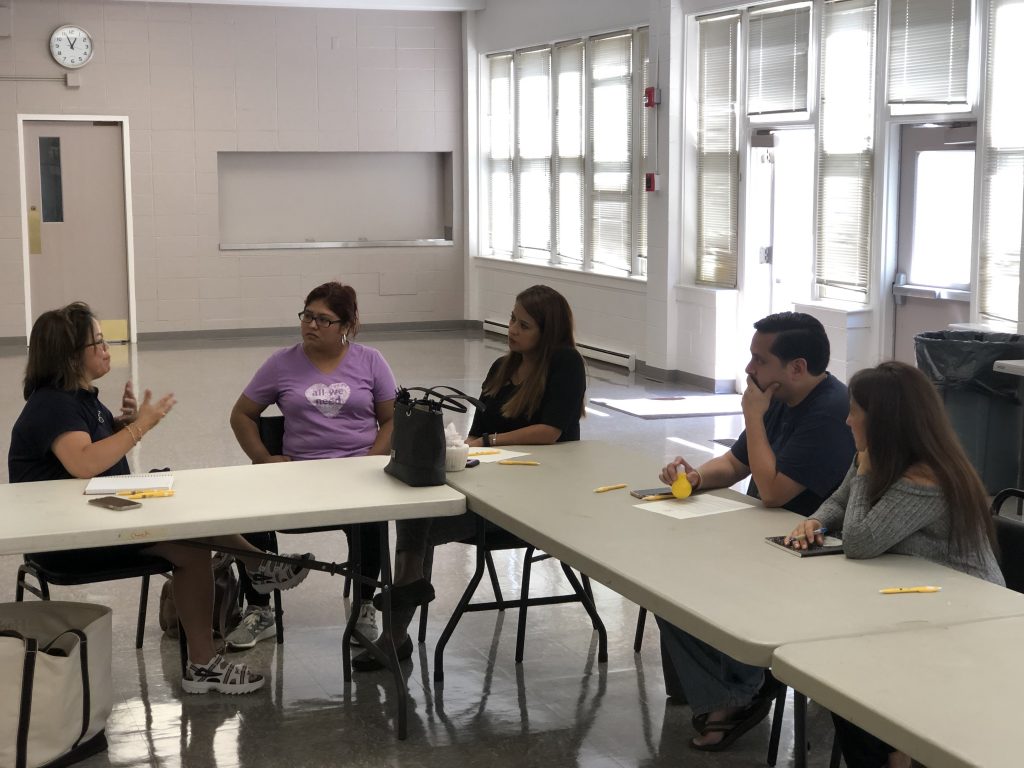 Spanish-speaking Hispanic & Latino families also face issues of language barriers, cultural differences, and lack of knowledge. Documents are largely in English. Meetings are rarely translated and, if so, are often not translated well. Families leave meetings without understanding what has happened in the meeting or understanding the testing that has taken place. Sometimes, they sign documents that they do not understand. Families are often intimidated by the process and are afraid to speak up in meetings. Families do not want to appear as if they are complaining about the school, the teacher, or the process.
Cultural barriers or misunderstandings often cut both ways. Email is one of the most important resources for families in special education. Emails create a paper trail, encourage accountability, and start timelines. Hispanic/Latino families that speak English as a second language are often uncomfortable sending emails and more comfortable sending texts. They might doubt their ability to compose an English email that fully expresses their concerns. Rather than sending an email to communicate issues, they might prefer to speak to the teacher or administrator in person. While in person communication certainly facilitates a more cordial relationship between the parents and school district, it does not create a paper trail for requests made or concerns expressed, which is crucial to starting timelines in the special education process.
School administrators also can reinforce cultural barriers, often unintentionally. The tendency to speak in special education jargon – IEP, IEE, PPT, IDEA, PIPE, CSE, OT, PT, SLP, etc. – is intimidating to any family in the special education process, and even more so for a family who speaks English as a second language. Failure to test in both Spanish and English can lead to gaps in understanding a child's needs, and most parents don't know that they can request such testing be done in the home language. Resource gaps exist as well – many families, ethnic origin aside, may have difficulty due to work commitments attending all of the meetings required in the special education process. Parents fear losing their jobs because of taking too much time off to attend these meetings. Some of our clients have misunderstood meeting notices sent via mail or home with the child, and have failed to turn up for meetings at all.
For many Hispanic/Latino ESL families, the emotion of fear underlies nearly all their interactions with the school district. Fear of retaliation against their child or their other children in school, fear of governmental oversight and potentially being reported to ICE, fear of losing benefits like school free lunch, and fear of retaliation by the school community (parents and other children) abound. One of our clients was so afraid of the school district that she was unable to open the mail from the school about her child. On our first meeting, she brought me a box full of mail and correspondence from her school district – all unopened. She was afraid to open the mail because it came from the school. Another client was so afraid of her school district that when I called her to schedule a phone interview to discuss her grant application, she could not bring herself to call me back. She heard "education" on the voicemail and had a panic attack.
According to the Connecticut Department of Education, nearly 30% of special education students are of Hispanic or Latino origin.

Connecticut Department of Education website
Proyecto de Educación Especial is Special Education Legal Fund's Spanish language /ESL parent education and advocacy program. Proyecto provides parents who speak Spanish as a primary language with foundational knowledge about the history, laws, and rights of children with special education needs. Proyecto's groundbreaking curriculum, taught directly into the community with trusted partners, incorporates civics, history, and legal precedents to empower families to use facts and the law to advocate for their children.
Fairfield County's Community Foundation promotes philanthropy as a means to create change in Fairfield County, focusing on innovative and collaborative solutions to critical issues impacting the community. Individuals, families, corporations, and organizations can establish charitable funds or contribute to existing funds. The Community Foundation is is compliance with the Council on Foundation's national standards and has awarded over $220 million in grants to nonprofits in Fairfield County and beyond. As a trusted nonprofit partner and thought leader, Fairfield County's Community Foundation brings together community organizers, business experts and philanthropists to solve our region's challengers. Our goal is to create a vital and inclusive community, where every individual has the opportunity to thrive. fccfoundation.org

En diciembre de 2019, el Fondo Legal de Educación Especial lanzará el Proyecto de Educación Especial en Building One Community en Stamford, CT. Desarrollado en asociación con la Fundación Comunitaria del Condado de Fairfield, Proyecto es un innovador plan de estudios de educación especial y educación cívica diseñado para promover el empoderamiento a través del entendimiento entre las familias de ESL con niños en educación especial. Con la ayuda y el apoyo de FCCF, el Fondo Legal de Educación Especial continuará expandiendo el alcance del Proyecto en Stamford, Norwalk y Bridgeport a lo largo de 2020.
El año pasado fue una experiencia de aprendizaje extraordinaria para el Fondo Legal de Educación Especial. Una de las principales lecciones adquiridas durante ese tiempo, ha sido sobre la experiencia de las familias hispanas y latinas que hablan inglés como segundo idioma en el sistema de educación especial. Si bien el fracaso sistémico generalmente atraviesa las líneas raciales y étnicas, las particularidades de las familias hispanas y latinas principalmente hispanohablantes las hacen especialmente vulnerables a las complejidades del sistema de educación especial.
La educación especial es difícil para cualquier familia. Cuando su hijo es referido a educación especial, generalmente es porque él o ella no se está desempeñando correctamente en la escuela. Esto podría ser académicamente, socialmente o conductualmente. Su hijo podría estar atrasado en matemáticas o lectura. Su hijo también podría estar evidenciando comportamientos como: huir, golpear, patear, gritar en el entorno escolar. Es posible que reciba llamadas telefónicas de la escuela sobre su hijo de forma semanal o incluso diaria. La escuela podría estar pidiéndole que recoja a su hijo temprano cada semana, o incluso a diario.
Las familias hispanas y latinas de habla hispana también enfrentan problemas de barreras idiomáticas, diferencias culturales y falta de conocimiento. Los documentos están en gran parte en inglés. Las reuniones rara vez se traducen y, de ser así, a menudo no se traducen bien. Las familias abandonan las reuniones sin comprender lo que sucedió en la reunión o sin comprender las pruebas que se han realizado. A veces, firman documentos que no entienden. Las familias a menudo se sienten intimidadas por el proceso y tienen miedo de hablar en las reuniones. Las familias no quieren aparecer como si se estuvieran quejando sobre la escuela, el maestro o el proceso.
Las barreras culturales o los malentendidos a menudo limitan la comunicación en ambos sentidos. El correo electrónico es uno de los recursos más importantes para las familias en educación especial. Los correos electrónicos crean un rastro en papel, fomentan la responsabilidad y dejan el record de los eventos ocurridos. Las familias hispanas / latinas que hablan inglés como segundo idioma a menudo se sienten incómodas enviando correos electrónicos y se sienten más cómodas enviando mensajes de texto. Pueden dudar de su capacidad para redactar un correo electrónico en inglés que exprese plenamente sus preocupaciones. En lugar de enviar un correo electrónico para comunicar problemas, es posible que prefieran hablar con el maestro o el administrador en persona. Si bien la comunicación en persona ciertamente facilita una relación más cordial entre los padres y el distrito escolar, no crea un rastro en papel para las solicitudes o inquietudes expresadas, lo cual es crucial para plasmar el order del los eventos ocurridos en el proceso de educación especial.
Los administradores escolares también pueden reforzar las barreras culturales, a menudo sin querer. La tendencia a hablar en la jerga de educación especial (IEP, IEE, PPT, IDEA, PIPE, CSE, OT, PT, SLP, etc.) es intimidante para cualquier familia en el proceso de educación especial, y aún más para una familia que habla Ingles como segundo lenguaje. Si no se realiza la prueba tanto en español como en inglés, se pueden generar brechas en la comprensión de las necesidades de un niño, y la mayoría de los padres no saben que pueden solicitar que se realicen dichas pruebas en el idioma del hogar. Las brechas de recursos también existen: muchas familias, aparte del origen étnico, pueden tener dificultades debido a los compromisos laborales que asisten a todas las reuniones requeridas en el proceso de educación especial. Los padres temen perder sus trabajos por tomarse demasiado tiempo libre para asistir a estas reuniones. Algunos de nuestros clientes han entendido mal las notificaciones de reuniones enviadas por correo o a casa con el niño, y no han podido asistir a las reuniones.
Para muchas familias hispanas / latinas de ESL, el sentimiendo del miedo subyace en casi todas sus interacciones con el distrito escolar. El miedo a las represalias contra su hijo u otros niños en la escuela, el miedo a la supervisión gubernamental y potencialmente ser reportado a ICE, el miedo a perder beneficios como el almuerzo gratis en la escuela y el temor a represalias por parte de la comunidad escolar (padres y otros niños) abundan. Una de nuestras clientas le tenía tanto miedo al distrito escolar que no pudo abrir el correo de la escuela sobre su hijo. En nuestra primera reunión, me trajo una caja llena de correspondencia y correspondencia de su distrito escolar, todo sin abrir. Tenía miedo de abrir el correo porque venía de la escuela. Otro cliente tenía tanto miedo de su distrito escolar que cuando la llamé para programar una entrevista telefónica para hablar sobre su solicitud de subvención, no pudo llamarme. Ella escuchó "educación" en el correo de voz y tuvo un ataque de pánico.
Proyecto de Educación Especial es el programa de educación y defensa de los padres en español / ESL del Fondo Legal de Educación Especial. Proyecto proporciona a los padres que hablan español como idioma principal conocimientos básicos sobre la historia, las leyes y los derechos de los niños con necesidades educativas especiales. El innovador plan de estudios de Proyecto, aplicado directamente en la comunidad con socios confiables, incorpora antecedentes cívicos, históricos y legales para capacitar a las familias para que utilicen los recursos y la ley para abogar por sus hijos.
La Fundación Comunitaria del Condado de Fairfield promueve la filantropía como un medio para crear un cambio en el Condado de Fairfield, enfocándose en soluciones innovadoras y colaborativas para problemas críticos que impactan a la comunidad. Individuos, familias, corporaciones y organizaciones pueden establecer fondos de caridad o contribuir a fondos existentes. La Community Foundation cumple con los estándares nacionales del Council on Foundation y ha otorgado más de $ 220 millones en subvenciones a organizaciones sin fines de lucro en el condado de Fairfield y más allá. Como socio confiable sin fines de lucro de confiana y líder innovador, la Fundación Comunitaria del Condado de Fairfield reúne a organizadores comunitarios, expertos en negocios y filántropos para resolver los desafíos de nuestra región. Nuestro objetivo es crear una comunidad vital e inclusiva, donde cada individuo tenga la oportunidad de prosperar. fccfoundation.org