Winston Preparatory School: The Sum is More than the Parts
This piece is the first in our series "Special Education Schools: Getting Past the Sticker Shock."  This series, which will continue for the balance of the 2021-2022 year, is intended to highlight the differences between independent special education programs and give parents a sense of what makes each program unique, and what lies behind statistics like student-teacher ratio and "behind the sticker."  The schools highlighted in this series represent a wide range of special education independent schools in Connecticut and New York; each school serves specific and particular profiles of learners and may not be appropriate for all students with special education needs.  
There's a lot of sticker shock in the special education world. Evaluations, speech therapy, reading tutors, reading specialists, occupational therapists, psychiatrists, psychologists, special education advocates, special education attorneys, education consultants – the list goes on, and on. But there is no sticker shock quite like the first time a parent sees the tuition at the private special education school you are considering for your son or daughter.
Tuition at various independent special education schools can exceed that of their regular education private counterparts; tuition of $75,000 and upwards is not unheard of among private special education schools in Connecticut and New York. Smaller class sizes, more support, differentiated instruction, and highly individualized learning plans are all hallmarks of independent special education schools in our area. But what does this mean, exactly, and what exactly lies behind that sticker price?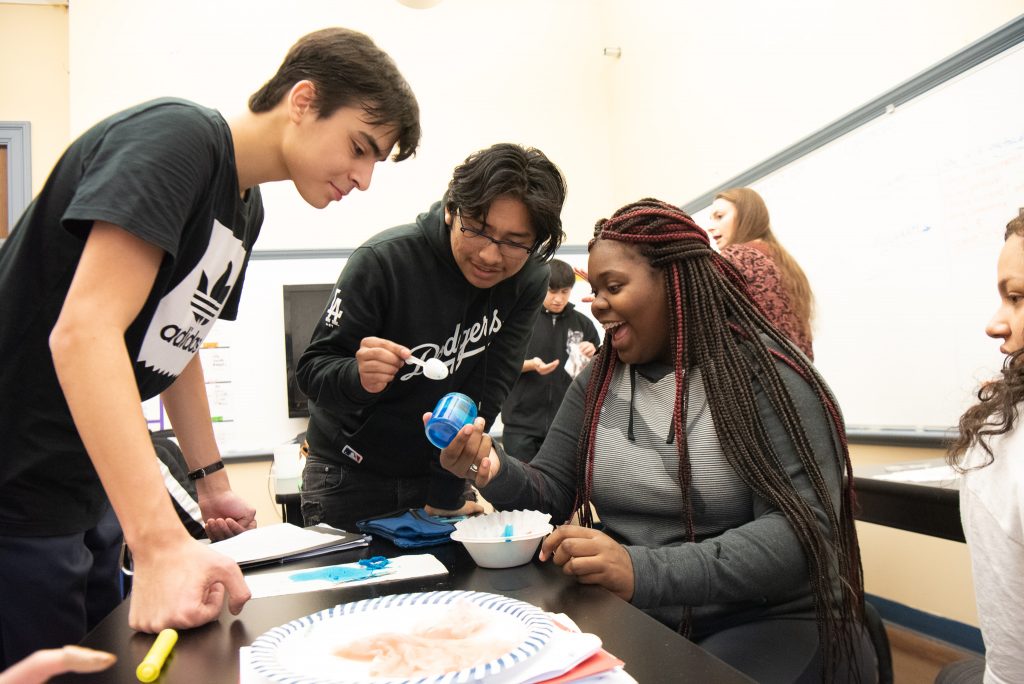 Our son attended Winston Preparatory School at 57 West Rocks Road in Norwalk, Connecticut for three years – three years that my husband and I generally describe as "transformative." Winston Prep represented a turning point in my son's educational journey. While there have been bumps along the way, his time at Winston was critical in the formation of the student and person that he's become. However, his experience is just that – his experience. Students can have vastly different experiences at the same school even if they share the same diagnosis; children are individual and no one school is the right fit for everyone. My family's experience at Winston is not meant to be a statement that Winston is right for all children; it is meant illustrative of what lies behind the tuition at a special education private school, and what that might mean for your child.
When my son entered Winston Prep in the fall of his 6th grade year, he was coming off of a stint at an independent Jewish day school with a special education program embedded within the traditional curriculum. When we placed him at that school, which closed during the pandemic, we knew about Winston, but we were unsure about whether he was ready at WPS and also had concerns that he was too young as a second grader to attend the school successfully without a substantive peer group.
So we stalked Winston for the intervening years, attending open houses, visiting campus, and just generally showing up and taking brochures every time there was an opportunity to do so. We were scared about moving him. Change is difficult. And the Winston program involved a departure from the previous models we were famliar with. No more therapies and pull outs during the day; Winston's integrated setting promised a team approach to educating each student and a wealth of specific and individualized attention for each child. This all sounded good on paper. But would it work?
The short answer to this question was, for us, that it did. Schools generally – whether public or private, religious or secular, special or general education – do best educating students within a box. Typical students generally can function well in a wide range of boxes, while students who are outliers – academically, behaviorally, socially, or otherwise – may struggle in schools where the "box" is not the right one for them. The trick is finding that right box and knowing that, while schools talk a good game about an individualized education for students, what they really mean is an individualized education within the confines of their specific box.
For us, the Winston Prep "box" was indeed the right one for our son. Not only does Winston promise a model of daily education where the team is seamlessly working together to provide the student with full time multilayered support, they actually deliver on this model. Before we got to Winston, we were mainly concerned with therapies and supports. When would he be receiving speech therapy, for how long, and for how often? The Winston model revolves around the Focus Program in which a Focus Instructor is the "general contractor" of the student's educational plan; the Focus Teacher manages communication with the student's academic teachers, his or her dean, the Head of School, and parents. The Focus Teacher also provides 1-1 support for the student according to the student's needs, once a day, every day. During our time at Winston, Focus support varied from independent academic support to social group work to executive function assistance and much more. It evolved, just as my child did, to meet his needs.
The QSIL is another crucially important element of the Winston experience for students and families. QSIL stands for Qualities of a Sustainable Independent Learner and was designed to identify qualities leading to later-life indepence, as laid out on its website below:
WPS was using the self-created Quality of Sustainable and Independent Learner (QSIL) scale to assess the socio-emotional progress of students for over a decade, but formalized this project in August 2012. In Phase One of this project, WPS teamed up with the National School Climate Center (NSCC) to (1) identify and solidify the qualities that lead to independence in later life, and then (2) establish the QSIL scales as reliable and valid surveys that can be used to (i) understand a student's social-emotional strengths and needs; and, (ii) be a reliable and valid indicator of social-emotional learning capacity.

Winston Preparatory School website
The way the QSIL manifests itself for Winston students is through twice-annual assessments, done by the student as well as his/her teachers and staff, to evaluate the student's progress towards these qualities. I'll admit – my husband and I used to make fun of the QSIL especially when we saw that our son's assessments of himself were uniformly better than his teachers' assessments of his QSIL qualities. However, in looking back at the process, and seeing how he is today – the QSIL taught him to self-reflect not only about his successes and strengths but about his challenges in the learning environment. Today I know that the QSIL is an integral component to the independent learner that he has become.
But how does the school support those "Qualities of a Sustainable and Independent Learner"? In short, the school meets the needs of its students, encourages its students to thrive, and stretches them for the person that they will become, through an integrated support network of teachers, faculty, and administration. I mentioned the Focus Teacher before but each individual academic teacher was fully invested in the Winston methodology and support network for the students. In addition, the student's Academic Dean was also an essential element of the support network. And finally, the Head of School – in our case Beth Sugerman from the CT campus – was always there to support our son when he needed it. All of this resulted in a multilayered support framework that gave our student what he needed when he needed it, but was able to back off or peel away when he did not.
I've heard lots of stories from families whose children, in desperate need of support at their school, are made to walk long hallways in search of the right personnel who is assigned to help them in their moment of need. I've heard more stories from families where students are forced into a resource room, or secluded, because they cannot be supported in their moment of need. And finally, there are the horrific experiences of students across the state of Connecticut and beyond who were restrained, often repeatedly, because they were not able to receive the support they needed in a moment of crisis.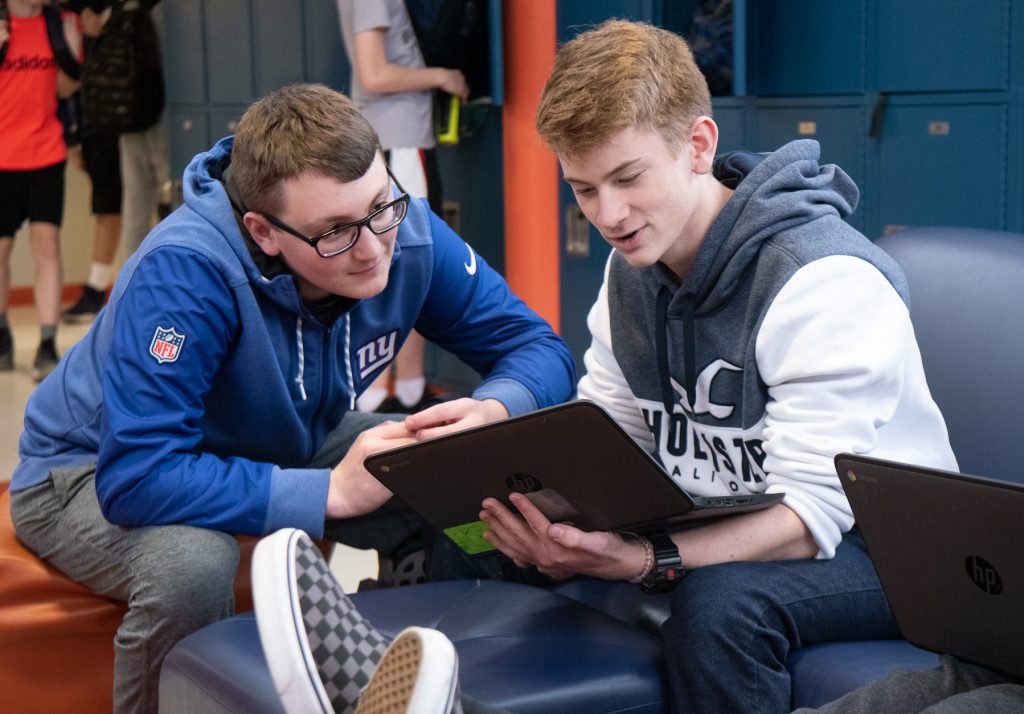 The Winston team, for us, worked the way that a supportive school team is supposed to work. Over the period of time that my son was enrolled at Winston, this support team gradually stripped away the maladaptive learned behavior he had picked up in other (public and private) school settings, and gradually built trust with our entire family. When I walked into the front doors of Winston Prep on my son's orientation day, I wasn't sure I would ever trust a school administrator again. We had experienced a deep failure of trust both in public school and private school settings. But Winston – over time, and with faith and hope – rebuilt that trust for me, and my family.
This piece is not a call for every student to attend or apply to Winston. Winston doesn't work for all students, nor is Winston appropriate for all students. Similarly, Eagle Hill doesn't work for all students, nor does Windward, or Foundation School, or Pinnacle School, and so on. Winston operates well within its box, but sometimes – and this is true for all independent schools – it's unable to support students that fall outside of that box. Even more troubling, there isn't always a perfect "box" for every student. Students with significant behavioral issues often struggle to find a place which is appropriate for them. And no school is perfect.
I have often said to families, who are struggling with the outplacement process, that a school is never going to be 100% of what you want for your child. For my child, the three pillars of school success for him were academic, behavioral, and social in nature. As parents of students with specific educational needs, sometimes we have to triage what's important for our child in a given year – one year it will be behavioral, while in another it may be social, and in still another it will switch to academic. I will say that even though I loved Winston for our son and found it to be a transformative experience in his educational career, there was not one year that we attended the school in which the academic, behavioral, and social pieces all came together in the same year. That doesn't mean that the Winston box didn't fit him or work for him – it just meant we had to work within the confines of the box.
There were many other aspects of the Winston model that we found unique even among independent special education schools – the Winston Innovation Lab, for one, and the various partnerships the school has with other organizations – the Child Mind Institute, through which we secured a state-of-the-art and comprehensive neuropsychological evaluation that was beyond the scope of any (we've had many) we had done previously. There are also other collaborative partnerships like Winston's online dual enrollment program with Landmark College which we hope to explore in a subsequent article. However, one thing that's important to remember when looking at Winston, or any other school, is that every school is different. Even within the Winston framework, the schools and communities differ and each campus has its own unique flavor. Winston Connecticut differs from Winston NYC and NJ and Long Island and vice versa. Some of that difference is driven by the nature of the campus, and some of it is driven by differences in the student bodies themselves. But ultimately, the best way to find the right school for your child is to do your research, speak to other parents, visit the schools, meet the students & teachers, and – most importantly – try to visualize your child walking the hallways of the school.
Disclaimer: As noted in the above post, the author's son attended Winston Preparatory School for three years from 2015-2018.  Winston Preparatory School (CT) Head of School is a Member of Special Education Legal Fund's Board of Directors since 2020. Winston Preparatory School has been a sponsor of Special Education Legal Fund events and fundraisers from 2018 to present, including but not limited to the Parent Education Program webinar series and Dance for S.E.L.F. gala scheduled for September 18th, 2021.